E' finalmente disponibile per l'acquisto il nuovo CD live dal titolo Lou Reed and Kris Kristofferson: In Their Own Words With Vin Scelsa che immortala una serata al Bottom Line in cui i due artisti divisero il palcoscenico.

Era il febbraio del 1994 quando due artisti apparentemente lontanissimi tra loro, Lou Reed e Kris Kristofferson, si trovarono a condividere il palco del leggendario club Bottom Line ospiti di una serata speciale con il presentatore radiofonico Vin Scelsa. Quell'incontro, che alterna momenti musicali di entrambi con interviste, è stato finalmente pubblicato in veste ufficiale ad opera del Bottom Line Archive e può essere acquistato su Amazon a € 22,00.
Non un vero e proprio live, quindi, ma anche le interviste sono davvero interessanti. Come quando Lou spiega il successo del suo metodo di composizione: "Scrivo in prima persona perchè alcuni brani sembrano acquistare potenza se raccontanti in prima persona, e la mia vita non è poi così eccitante. Se riesci a farlo particolarmente bene, il pubblico penserà che siano capitate a te".
Questa la tracklist con, evidenziati, i brani eseguiti da Lou Reed e le interviste eseguite a lui:
In Their Own Words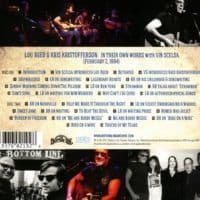 Disc One
1. "Introduction"
2. "Vin Scelsa Introduces Lou Reed"
3. "Betrayed"
4. "Scelsa Introduces Kris Kristofferson"
5. "Shipwrecked"
6. "Lou Reed on Songwriting"
7. "Legendary Hearts"
8. "Kris Kristofferson on His Childhood & Songwriting"
9. "Sunday Morning Coming Down/The Pilgrim"
10. "Reed on New York"
11. "Strawman"
12. "Kristofferson talks about 'Strawman'"
13. "Sam's Song"
14. "Reed on Writing for Wim Wenders"
15. "Why Can't I Be Good"
16. "Reed on Autobiographical Songs"
Disc Two
1. "Kristofferson on Nashville"
2. "Help Me Make It Through the Night"
3. "Reed on Velvet Underground & Warhol"
4. "Sweet Jane"
5. "Kristofferson on Writing"
6. "To Beat the Devil"
7. "Reed on Writing Prose"
8. "Romeo Had Juliet"
9. "Burden of Freedom"
10. "Kristofferson on 'Me and Bobby McGee'"
11. "Me and Bobby McGee"
12. "Kristofferson on 'Bird on a Wire'"
13. "Bird on a Wire"
14. "Tracks of My Tears"
Di seguito il link amazon per acquistare l'album:
Commenti
commenti